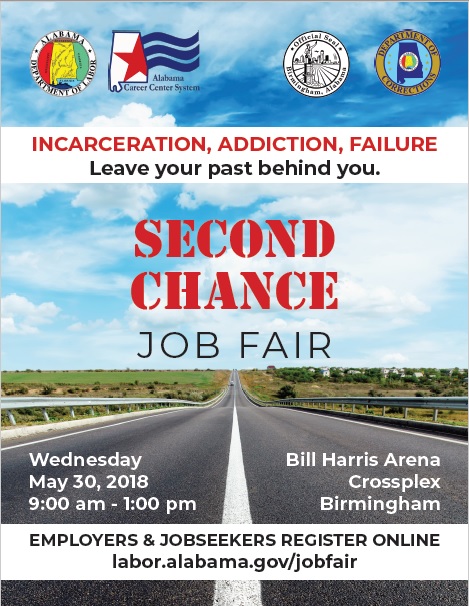 Second Chance Job Fair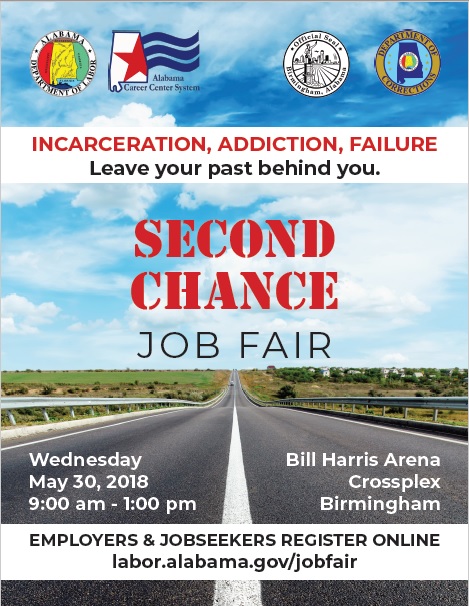 FOR IMMEDIATE RELEASE: May 16, 2018
Second Chance Job Fair to be Held in Birmingham
Event Targeted at Those with Barriers to Employment; Workshops Also Offered
BIRMINGHAM – The Alabama Career Center System / Alabama Department of Labor, in partnership with the City of Birmingham, the Alabama Department of Corrections, the Alabama Department of Pardons and Paroles, and the Wright Way Company will host a job fair aimed to assist those who experience barriers to employment find work on Wednesday, May 30, 2018 from 9 a.m. to 1 p.m. at the Bill Harris Arena in Birmingham.
People with barriers to employment include those who have been previously incarcerated, those struggling with addiction, those with little work history, and disadvantaged backgrounds, among others.
Currently, more than 50 employers are scheduled to attend, including: American Cast Iron Pipe Company, Associated Grocers of the South, Embassy Suites, T-Mobile, Goodyear, and more. A full listing of employers and the available jobs can be accessed at www.labor.alabama.gov/jobfair; select "See What Companies are Coming to the Job Fair." More than 900 available jobs are represented.
The job fair is free and open to the public. There is still available space for employers. Jobseekers and employers are encouraged to pre-register online at www.labor.alabama.gov/jobfair. Pre-registering will allow for faster entry, and participants are strongly encouraged to print their confirmation and bring it with them to the job fair or to save their confirmation e-mail on their phones. On-site registration will also be offered.
The facility is accessible and buses and vans are welcome.
"This is a great opportunity for us to reach out to a population that is often overlooked," said Alabama Department of Labor Secretary Fitzgerald Washington. "We are committed to putting Alabamians to work, regardless of what barriers they may or may not face. Any Alabamian who wants to work, should be able to have an opportunity to find work."
"We are especially thankful for the continued cooperation and enthusiasm of our partners in this event, Mayor Randall Woodfin, the City of Birmingham, and all of our other agency partners. The dedication and collaboration between local governments, state government, and private industry is what makes these job fairs a success," said Washington.
"It is the job of our government to make sure all of our people have the opportunities and resources to thrive. The partnership that has come together for the Second Chance Job Fair is based on our commitment to create those opportunities," said Mayor Woodfin.
Applicants should come to the job fair with multiple copies of their résumés, be prepared to interview, and should be dressed professionally. Interview space will be provided.
Additionally, a Job Readiness Workshop will be held prior to the event, on Tuesday, May 22 from 12:30 p.m to 4:00 p.m. to prepare jobseekers by providing training in interview skills, résumé assistance, and more. All attendees will leave with a free professionally prepared résumé. Seating is limited, and registration is STRONGLY encouraged. Register by contact the Birmingham Career Center at 205-582-5200 or birmingham@alcc.alabama.gov.