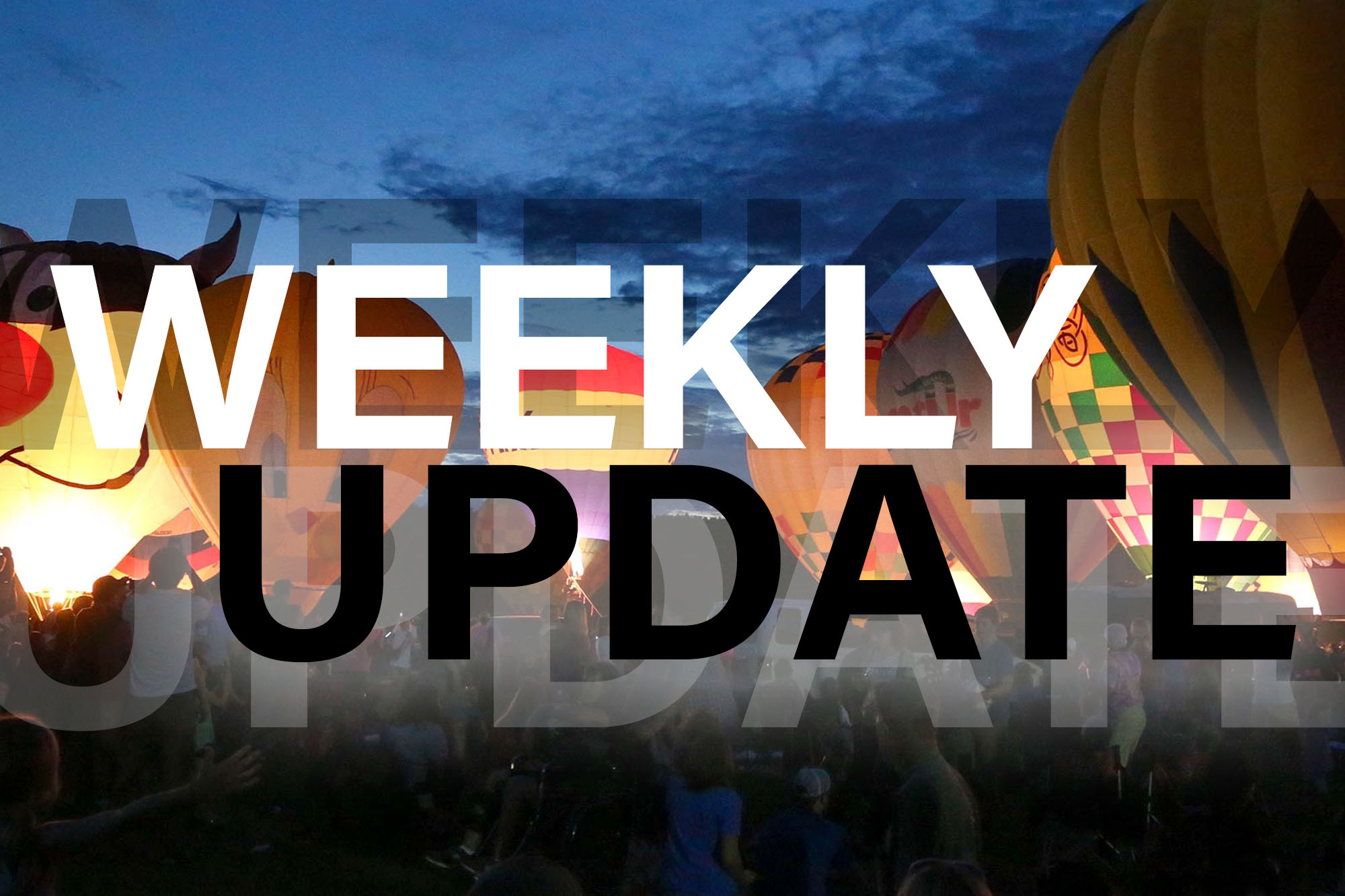 Weekly Update – Mayor Tab Bowling
Posted in
City Updates
,
From the Mayor's Desk
Tags:
Alabama
,
Austin High School
,
basketball
,
Decatur
,
Eastwood Elementary
,
Ingalls Harbor Pavilion
,
One Decatur
,
Rhodes Ferry Park
,
Somerville Road Elementary School
,
updates
0 Comments
Weekly Happenings
The week started with sharing about the wonderful signage additions to Decatur tourism platform that gives us another opportunity to share the rich and diverse story of our history.  Thank you to David Breland, Director, Historic Preservation Committee, Allen Stover, Community Development (Grants), Trail of Tears Association, National Park Service and Decatur Parks and Recreation.  I visited Ingalls Pavilion for the Annual Tennessee Valley Training Center Safety Seminar, attended by area safety officials, HR and plant managers.   I returned to Ingalls Pavilion later in the week for the Barrels of Love Turn-in Day to see firsthand how giving our City is!  The goal of 50,000 items was exceeded while collecting greater than 60,000 items.  Many thanks to the many volunteers and a special Thank You to this year's Chairperson, Joe Holmes, Decatur Utilities.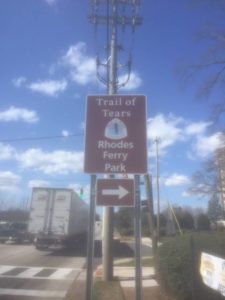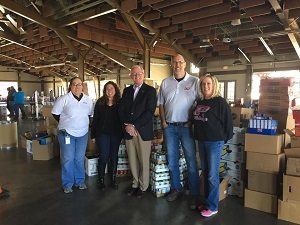 I enjoyed visiting with District One residents with Councilman Jackson.  The Councilman helped me identify areas of blight and needed safety improvements.  We also enjoyed time visiting with Maxine Elleson and her dedicated team of tutors.  Ms. Elleson is a retired Somerville Road Elementary School teacher who gives time tutoring students Monday – Friday.  It was a joy seeing the time investment and I was impressed to find an 11th grade A student, Destiny, serving as a tutor.  I looked at the sign-in log and Miss Destiny is faithful to sign-in everyday knowing the impact her work will have on others and her resume'.  The Councilman and I ended our day visiting the after school program at Carrie Matthews.  I recently asked Decatur Youth Services Director, Bruce Jones, for student grades for those participating in the after school program.  I was thrilled to see the B average.  Leaders are working to improve GPA's…stay tuned.  While I visit all districts, I look forward to visiting other districts with Council representatives.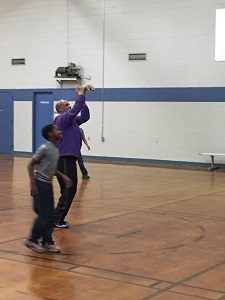 Austin High School 6A State Championship
Wednesday was set aside for something very important, a trip to Birmingham.  I was joined by Decatur City Schools Superintendent, Dr. Dan Brigman, City Attorney, Herman Marks and Community Development Director, Wally Terry to watch the Austin High School Varsity Boys Basketball team compete in the 6A State Championship.  Wally proudly flashed his DHS State Championship ring as we traveled!  Herman played basketball for Coach Jones a long-long time ago 🙂 and I attended AHS until transferring to JO Johnson during my Junior year.  We are all so proud of the outstanding 2016-17 Austin High School Varsity Boys Basketball team and Coaches.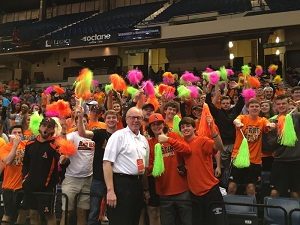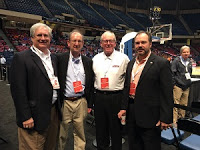 Dr. Seuss Day in Decatur
I visited Julian Harris Elementary and read Dr. Seuss, Mulberry Street to 3rd grade students.  I had another opportunity to read to Decatur students at Eastwood Elementary.  It was nice meeting Mrs. Greer, Principal and First Grade teachers, Mrs. Baggett and Mrs. Grantland.  I enjoyed reading "Horton Hatches the Egg" and answering question presented by the students.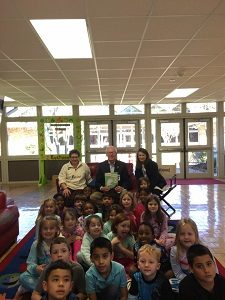 Departments & Developments
City Hall served as host for the monthly Morgan County Mayors, County Commission and City Clerk's Dinner.  We had a wonderful time of fellowship and learned valuable information from our public servants.
The new City of Decatur, AL website went live.  Please visit our new website.
The Industrial Development Board approved abatement's for Dynetics and Aerospace company.  Dynetics will partner with United Launch Alliance (ULA).  We are happy to see another partnership at the ULA facility with RUAG being the first.  I spent time working with new business opportunities that can bring a more diversified business offering to Decatur.
City and  Economic Development leaders worked on ways to improve an ever-changing and competitive industry.  We know we must remain competitive when recruiting industry to our area.  We realize improved communication is imperative, while the City has a need to improve marketing efforts to help new workers in our area identify the value of making Decatur their home.  Discussions will continue and that is healthy for Decatur.
I attended Business Travel Luncheon at the Huntsville Jetplex where we learned about air travel based out of Huntsville, data showing limited leakage to Birmingham and Nashville.  Fly Glo is offering non-stop flight trips to New Orleans and flights to Little Rock, Shreveport, Destin-Fort Walton and Memphis.  More airline news should be coming soon from the Huntsville Jetplex.
I attended the OneDecatur Steering Committee meeting at Turner-Surles with Council members: Ard, Bibbee and Kirby.  Much of the interesting data discussed during my stay was presented by economist Randy Gross.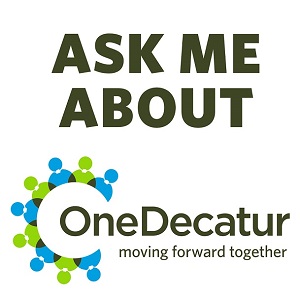 Decatur Fire Department, Chief Tony Grande, informed me the City of Decatur has been awarded an improved ISO rating of 2/2x. This is a wonderful accomplishment.  Chief Grande recognized Battalion Chief Trent Putman's hours of work towards this accomplishment.  Great job everyone!
We worked with Department Director, Rickey Terry to obtain a better understanding of the science and legal costs associated with PFC's that were delivered to Decatur-Morgan County Landfill.  There are numerous lawsuits associated with PFC's that will take years to resolve.  It would be nice if the 3M lead lawyer would participate in litigation.  Since he won't, the next stage will be costly depositions.
I frequently receive calls about a stretch of road behind Staples that leads to Walmart.  We were able to contact the landowner to have the property cleaned up.  Many thanks to our Community Development Team.  We have more areas throughout the City that need attention.
I visited the Mental Health Center and enjoyed spending time with clients, while they asked questions about the way our local government functions.
We wrapped up the work week discussing ways to improve the entrance to our City, improved parking for downtown and business development.  I can't go into the details, but at least you know we have vision and are working to fund improvements.
The weekend brought other opportunities: Sherry and I attended and helped celebrate MarMac Real Estate 10 year anniversary at their Annual Awards Banquet.  I enjoyed a fun time playing racquetball with my buddies followed by a visit to Delano Park where the 11th Annual Delano Park 12 hour run was taking place to benefit CDD MCA.  I had lunch at Chick Fila where I saw many guests due to tournaments that were taking place at Wilson Morgan Softball Complex and Jack Allen Soccer Complex.
Sunday included visiting and worshiping with the Central Methodist faith family.  Sherry and I made our way to Central Park Baptist where we celebrated 30 years of English and More, faithfully led by Debbie Pirkle. Then we celebrated the retirement of Priceville Assistant Police Chief, Ron DeWeese.
Please remember to pray for our City.  We have so much to be thankful for.  We have residents and friends with needs.  I pray daily for everyone associated with the City of Decatur government.  I pray for Decatur City Schools, our businesses, new businesses and much more.  I realize alone I am nothing, but the Lord will guide my paths if I allow Him to lead the way.
My Best,

Tab
---
Departmental Updates

News from Parks and Recreation:
TRAIL OF TEARS
You may have noticed some new Trail of Tears signs on Highway 31, Highway 20, Church Street and the Causeway coming across the bridge into Decatur. The National Park Service funded and officially recognized Rhodes Ferry Park as a Trail of Tears site along with other locations in Chattanooga, Tn., Ft. Payne, Guntersville and possible future site in Tuscumbia. Around 2,500 Cherokee were transferred from boat to rail at the location that is now Rhodes Ferry Park. This National designation was made possible by the Nation Park Service, National Trail of Tears Association, Alabama Trail of Tears Association, City of Decatur, Decatur Morgan County Convention & Visitors Bureau and Decatur Parks & Recreation. The Decatur Police Department sign shop and Parks & Recreation Department have installed the new Trail of Tears signs to guide visitors and residents to our beautiful Rhodes Ferry Park.
BIKE RACKS
The Parks & Recreation Department has installed several new artistic bike racks around town as part of a fundraising project for the Carnegie Arts Center. Several have already been installed at Mellow Mushroom and The Brick restaurants downtown, the CCC (Committee on Church Cooperation) and the corner of Bank Street and Church Street. Future locations include, Rhodes Ferry Park, Daikin Amphitheatre at Founders Park, Moe's BBQ and The Railyard restaurants downtown and Magnolia River on Bank Street. These bike racks look like artwork and have really drawn attention as many of them have Decatur themes or business logos. This is an on-going project that the Carnegie Arts Center is spearheading and the Parks & Recreation Department is proud to be involved.
DELANO PARK
The Parks & Recreation Department will be installing some new Riverwild Garden Interpretive Signage depicting many of our native animal and reptile inhabitants. The Friends of Delano and the McComm Group have worked together to design these amazingly informative and visual kiosk that will depict life of some of our small friends like, Frogs, Rabbits, Turtles, Beavers and Dragonflies. The Riverwild Garden is located next to the playground and Splash Pad at the park and is well worth a visit.
DOWNTOWN TREES
A new project to plant trees on Johnston St., Grant St. and Moulton St. has begun with funding secured by Senator Arthur Orr and installed in a partnership between Decatur Parks & Recreation and Waters Brothers. The tree plan was developed by GBW Architects and with support from the Decatur Downtown Redevelopment Authority and the Decatur Chamber of Commerce, the project has begun on Johnston & Grant streets with the Moulton St. section to be completed after road re-surfacing is completed. Very large multi-trunked Natchez Crape Myrtles were selected and obtained from Rosewood Nursery for the project. This will add some much needed greenery and shade spots for much of the downtown area.
SOME OF THE PROGRAMS OFFERED BY DECATUR PARKS AND RECREATIONS
AQUADOME- 1202 5th Avenue SW Decatur, Al
Aquadome Fitness Club Package – is a program we offer to promote health and wellness through different activities such as water aerobics, gym aerobics, weight training, water walking and pickle ball.
The cost for this program is $25/month and $10/month for adults ages 62 and older. Contact Rochelle Darnell or Delandrion Woods at the Aquadome @ 256-341-4950 for times and days for various programs offered in this package.
Line Dancing Classes – Come join us for a fun, free and friendly community line dance class that includes a variety of music to dance to. Classes are taught by Delandrion Woods and is a fun and upbeat class that you are sure to enjoy. A great way to get up and moving, meet new people and have a fun and safe atmosphere to dance. Contact Delandrion Woods at the Aquadome @ 256-341-4950 for more information on days and times.
The Aquadome Lunch Bunch Club – is a group of older adults who meet throughout the week for exercise, food, fun and fellowship. Most of the activities are scheduled at noon thus the name The Lunch Bunch Club. Participants are encouraged to bring a sack lunch to class and enjoy an afternoon of crafting, games and other events. This group has transcended into a very tight Lunch Bunch that is always looking to expand its membership. There is no cost to be a member of the Lunch Bunch Club; however, individuals are responsible for all costs associated with scheduled activities, such as crafts and outings. There are many activities that are 100% free or have a small fee to cover expenses. At least once per month the group will venture away from the Aquadome for a day trip or to try a new restaurant. Other activities include arts and crafts, games, nutrition, seminars, potluck, Bingo and a ladies movie night. Contact Rochelle Darnell at the Aquadome @ 256-341-4950.
Healthy Lifestyles/Aquatics – A lap swim program designed to help encourage an active lifestyle through swimming. Fins, kickboards and paddles are available for use at the pool. Swimmers are to circle swim and share lanes during this time. Annual Fees are $200, $100 for students or Seniors (62+) Quarterly $50, $25 for Students or Seniors (62+). Guest Fee is $5 per visit. For days and times contact the Aquadome Pool at 256-341-4953
Swim Lessons – Aquadome Pool conducts swim lessons throughout the year. Contact the Aquadome Pool @ 256-341-4953 for cost and times associated with swim lessons.
TC ALMON RECREATION CENTER- 2900-C Point Mallard Circle SE Decatur, Alabama
Archery Classes – These classes are open to homeschoolers and the general public. The cost is $20 for three classes and open to anyone 8yrs through adult. This is  a concentrated course covering basics, and suitable for those who have never shot an arrow, or those with some previous experience.  Class covers: Range set up and rules, eye dominance, anatomy of equipment (recurve, compound and crossbow), warm up exercises, alignment and body position, aiming and scoring. For more information contact TC Almon @ 256-341-4944.
Body Rock Boot Camp – This class combines strength training and high intensity cardio bursts to give your body a complete workout from your head to your toes.  Classes will be 45 minutes long and will consist of short, high energy, cardio bursts alternated with body weight exercises and fitness equipment.  Fee $20.00 a month or $5.00 per class. The $20 fee includes access to our weight and fitness room during center hours.  Please call TC Almon @ 256-341-4944 to register as spaces are limited.
FORT DECATUR RECREATION CENTER- 604 4th Avenue SE, Decatur, Al
Beyond The Bell After School Program – A safe and fun environment for students to attend after school. Activities will include: snack time, homework/study time, group activities, crafts and free play. The cost for this program is $25 for 3-5 days per week and $15 for 1-2 days a week. For more information contact Fort Decatur @ 256-341-4940.
Healthy Lifestyles Basketball – This program allows individuals to pay a membership fee of $100  that will give them exclusive times set aside to play basketball with other members. For more information concerning times and days  contact Fort Decatur Center @ 256-341-4940.
TURNER SURLES SENIOR CENTER-702 Sycamore Street NW Decatur, Al
Turner Surles Senior Center is a facility for Senior Citizens 60 years and older. Join us for food, fun and games. We offer a variety of classes including computer class, Bible study, line dancing, exercise classes, bingo and various classes and special events throughout the year. Transportation provided through M-Cats and lunch is served Monday through Friday at 1130am. Contact Turner Surles at 256-341-4980 for more information.
Therapeutics Program – provides recreational activities to assist special needs individuals with social skills, behavioral rehabilitation, speech, motor skills and many areas of emotional support in order to improve their quality of life.  The staff of the Therapeutics Program of the Decatur Parks and Recreation Department are educated and trained to engage special needs individuals with a variety of recreational activities. Contact Skylar Cooley @ 256-341-4958 for more information
UPCOMING EVENTS OF INTEREST
March 10-11 … Calhoun Softball Tournament (Wilson Morgan Softball Complex)
March 11 … Cabela's King Kat Fishing Tournament (Ingalls Harbor)
March 11 … Concert (Pub Crawl) (Daikin Amphitheatre/Founders Park)
March 18 … USSSA Softball Tournament
March 25-26th… USSSA Softball Tournament
March 25 … Color Vibe 5K Fun Run (Point Mallard)
March 25 … Trinity Outdoors Disabled Adventures Fishing (Ingalls Harbor)
April 1 … Playmakers Baseball Tournament (Wilson Morgan Softball Complex)
April 1 … Heartland Anglers Fishing (Ingalls Harbor)
April 7-9 … Girls Open Cup Soccer Tournament (Jack Allen Soccer Complex)
April 8 … The River City's Meet Your Match Open Pickle ball Classic (Aquadome Recreation Center)
April 10-15 … Morgan County Soccer Tournament (Jack Allen Soccer Complex)
April 13-15 … Morgan County Softball Tournament (Wilson Morgan Softball Complex)
April 21-23 … Boys Open Cup Soccer Tournament (Jack Allen Soccer Complex)
April 27-29 … SSAC Softball Conference Championships (Wilson Morgan softball Complex)
(Call Parks & Recreation at 256-341-4930 for more information.)

News From Decatur Youth Services News:
Every 3rd Thursday of each month Decatur Youth Services will be holding a Mentoring Training Session for Volunteers who want to become involved in the community by mentoring the youths in Decatur City Schools.
Mentors must:
Be willing to mentoring a child for an hour each week. You can read to them, play games, have lunch, help with homework etc. (we will confirm with the school the best time to meet)
Commit to 6 months to a year
Stick to the schedule
Set high expectations
Be understanding.
Background check will be done ( few exceptions police officers, social workers etc.)
Benefits for youth:
Increased high school graduation rates
Lower high school dropout rates
Healthier relationships and lifestyle choices
Better attitude about school
Higher college enrollment rates and higher educational aspirations
Enhanced self-esteem and self-confidence
Improved behavior, both at home and at school
Stronger relationships with parents, teachers, and peers
Improved interpersonal skills