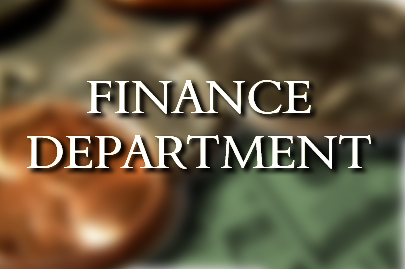 Finance Department – City of Decatur, Alabama
News From Our Finance Department:
Let me introduce the City of Decatur's Finance Department to you.  This department consists of 9 full time staff members, (1) supervisor, (1) internal auditor, (4) senior accountants, (3) staff accountants and (1) part time senior accountant who was a formerly the Finance Supervisor in the late 80's early 90's.  The majority of our staff has over 15+ years of service while others have over 36+ years of service to the City of Decatur.  The Finance Department has staggered hours starting at 6:45a.m. to 6:00 p.m. (or longer as needed) M-F to assist citizens, vendors, department personnel and directors who do not always work 8-5 hours.
Yes we have a very strong seasoned staff, we also recently welcomed two new Staff Accountants to our department – Ms. Dawn Runager (start date 09-26-16) and Mr. Joseph Lagasse (01-02-17).
Dawn is a graduate of Auburn University with a B.S. in Business Administration, with a major in Marketing.  She spent the last 19 years working as an accountant and tax professional in her father's practice.  She acquired ownership of "Thompson Family Accounting Services, LLC" in 2015 along with her sister who runs the day to day operations.   Dawn lives in Priceville with her husband of 24 years, daughter who is a junior at UAB, and son who is a high school student.  She is very active in her church, loves writing, reading, gardening and live theater.
Joseph is also a graduate of Auburn University with a B.S. in Accounting. He was also involved in Army ROTC.  Currently he is enrolled in CIS-Cyber Security A.A.S program at Calhoun Community College.  He has expert knowledge of Microsoft Office Suite, knowledge of Python, MySQL and completed parts one and two of Calhoun's Cisco CCNA course. Joseph loves backpacking, hiking and kayaking. He also helps lead a high school Sunday school group at his church.
Yet, we would be remiss if we did not brag on our veteran Senior Accountant & former Finance Supervisor, Joy Hill.  She brings many years of wisdom, knowledge and professionalism to this department, and we are so grateful for her continued dedication to the city.   Ms. Hill began her first employment opportunity, with the City in 1978, at that time there were three people in the Finance Department.  After a few years in this department the Director became ill and she was then promoted to Finance Supervisor and served in that position until 2001.  After a short retirement, she was re-hired to work 20 hours per week for two years.  During that time frame, the Finance Supervisor determined it was better for her family to move to Auburn, so Ms. Hill agreed to return to work full time until another supervisor was hired in in 2003.  She has been with the city on a part-time basis since that time.  She is truly a very rare gem that is treasured by the City of Decatur.
It is the Finance Department's desire to provide accurate and detailed information to the City, utilizing current technology and innovative ideas that come from the past, present and future as can be seen by our professional diverse financial staff.