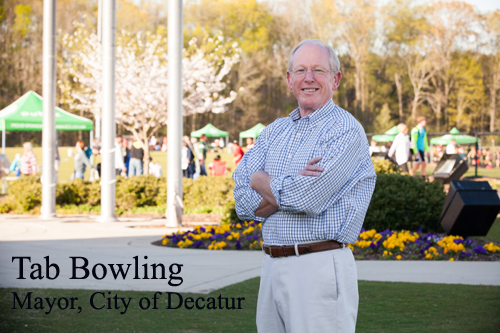 Happy Birthday America!
Celebrating our Nations birthday has and remains a fun-time in Decatur.  My earliest memories of the 4th of July were at Delano Park and the Parade of Flags.  I have posted this photo on social media in recent years.  It is always fun receiving comments as residents find their pic or a pic of a close friend.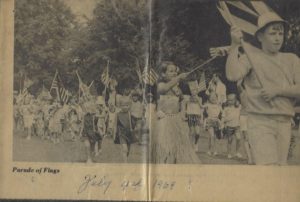 The 4th of July is also a great time for family reunions, fun with family and friends or maybe a day of much deserved relaxation.  Below are a few activities for families to enjoy at the Spirit of America Festival.
This year Decatur's free Independence Day celebration kicks off on July 4th with the Children's Bike Parade where patriotically decorated bikes, tricycles, wagons, and strollers will make their way from the T.C. Almon Center to the Expo Pavilion (former Outdoor Ice Rink). There is no fee to participate in the Bike Parade; however, registration is required and will begin at 9:00 A.M. at T.C. Almon. First, second, and third place prizes for best decorated will be presented during an awards ceremony at the Expo. After the parade, children and their families are invited to enjoy games and play on inflatables from 10:00 A.M. – 12:00 P.M. The Children's Bike Parade is sponsored by Chick-fil-A of Decatur.
Families are also invited to enjoy a day at the Point Mallard Waterpark, home to America's first wave pool! The J. Gilmer Blackburn Aquatic Center offers a kiddy pool area, pro bowl slide, sky pond, lazy river, flume slides, and speed slides. The Waterpark will remain open until 8:00 P.M. and requires a separate admission charge. Following a fun-filled day, guests can walk over to the Spirit of America field to enjoy the fireworks.
The field will open to guests at 6:00 P.M. with free admission, so that families can pick out a prime viewing location to enjoy the dazzling fireworks show that begins at 9:00 P.M. Local vendors will be selling lemonade, shaved ice, funnel cakes, pizza, hamburgers, and hotdogs. Guests are reminded to please leave pets, tents, and golf carts at home. Handicapped and VIP event sponsor parking are available at the Ice Rink. Sponsor and/or handicapped parking passes must be shown to event officials to access these areas.
WDRM 102.1 FM. will simulcast the fireworks show.
I hope everyone has a safe and enjoyable 4th of July holiday!