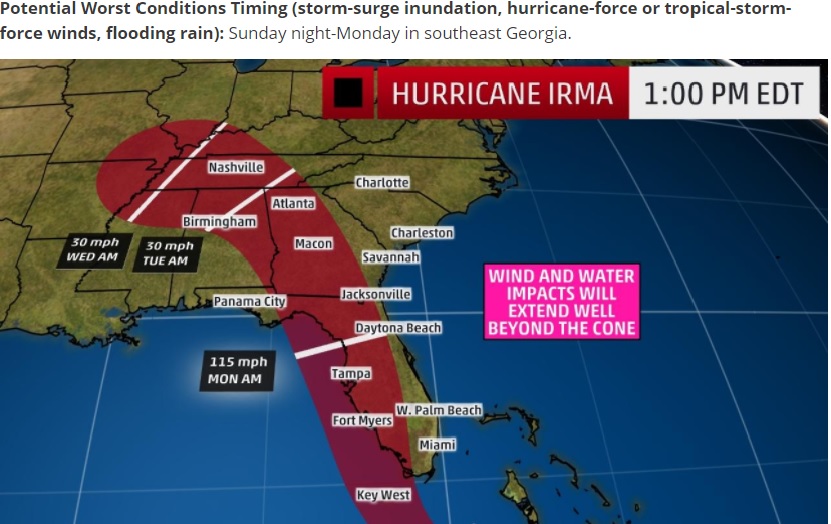 Hurricane Irma – Reliable Information

Reliable Information Is Important
We are seeing false information regarding lodging and emergency housing for Hurricane Irma evacuees. Only trust information you can verify from gov't agencies:
FEMA Federal Emergency Management Agency

Morgan County Emergency Management Agency

City of Decatur, Alabama

Decatur Police Department

Decatur Al Firefighters

Morgan County, Alabama

While it is not a gov't agency

American Red Cross

can be trusted as a reliable source.
Please keep those in the path of the storm and those assisting with the evacuation in your prayers.
I will keep you updated as we receive additional information.
Tab
Here is reliable information I just received:
Philip Levine
MAYOR
OFFICE OF THE MIAMI BEACH MAYOR
Dear Friends & Neighbors,
As Hurricane Irma approaches South Florida, in an abundance of caution, the City of Miami Beach has issued an evening curfew for the next three nights. Tonight, Sunday night, and Monday night, starting at 8:00 p.m. through 7:00 a.m, please remain indoors. All businesses will be closed during this period.
This curfew includes all pedestrian and vehicular movement, except for those individuals or entities designated for essential services such as fire, police and hospital services.
While the eye of the hurricane is projected to move toward the Florida Keys and Florida's west coast, we are not in the clear. Miami Beach is projected to be on the "sloppy side" of Hurricane Irma. This brings heavy winds and rains. A Tornado Watch has been issued for Miami-Dade County. Heavy rains have already begun. We are anticipating 4-6 feet of storm surge flooding and tropical-force winds beginning late this afternoon and into the days to come.
Please be safe and responsible. The curfew is mandatory and will be strictly enforced by Miami Beach Police Department.
Stay safe,
Mayor Philip Levine
Stay Informed
To receive text updates text MBtraffic to 91011.
Call 3-1-1 to connect with Miami-Dade County's contact center for up to date information.
Twitter:
Facebook:
***************************************
Dear Friends,
As you read this and continue keeping the people of Texas, Louisiana and the Caribbean in your thoughts and prayers, I know we are also closely watching Hurricane Irma as it approaches the U.S. mainland.
In Alabama, we know first-hand the power and unpredictability of hurricanes. So, as we all keep a close eye on the forecasts, I encourage you to make sure that you and your family are prepared and have a plan to stay safe in the event Irma comes here. To that end, I have included some Hurricane Preparation tips below. Please continue to follow your preparedness plan until the threat of Hurricane Irma passes and it is once again safe in our communities.
As the storm is expected to first impact Florida, AT&T has started its storm preparedness process as we closely monitor Hurricane Irma's anticipated track. Preparation includes topping off fuel generators, testing high-capacity back-up batteries at cell sites and protecting physical facilities against flooding. AT&T has also staged other emergency response equipment in strategic locations, and our national reliability center is monitoring outages for quick action.
AT&T is prepared, and with your personal plan in place, I am confident we will rise to meet the challenge of Irma and work together to address post-Irma issues and restore our communities.
Please stay safe and thank you for what you do every day to keep Alabama prepared to meet and beat challenges like Irma.
Sincerely,
AT&T Alabama Team