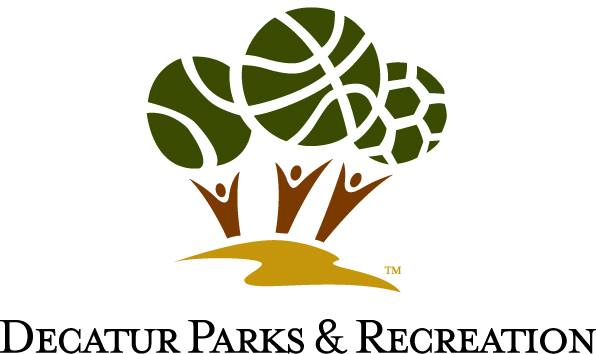 News From The City of Decatur Parks & Recreation Department
Decatur Parks and Recreation
Point Mallard Park was in full summer swing in July. Visitors enjoyed a variety of outdoor activities as the rain decreased and the temperatures were on the rise.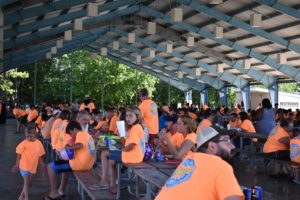 Spirit of America Festival
July started out with a bang as the Spirit of America Festival was held at Point Mallard Park on July 4. This year marked the 51st year for the festival which included a children's bike parade and activities and a huge fireworks show!
Point Mallard Water Park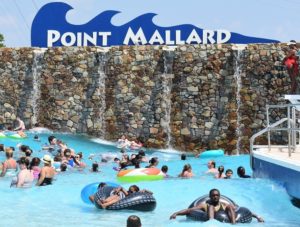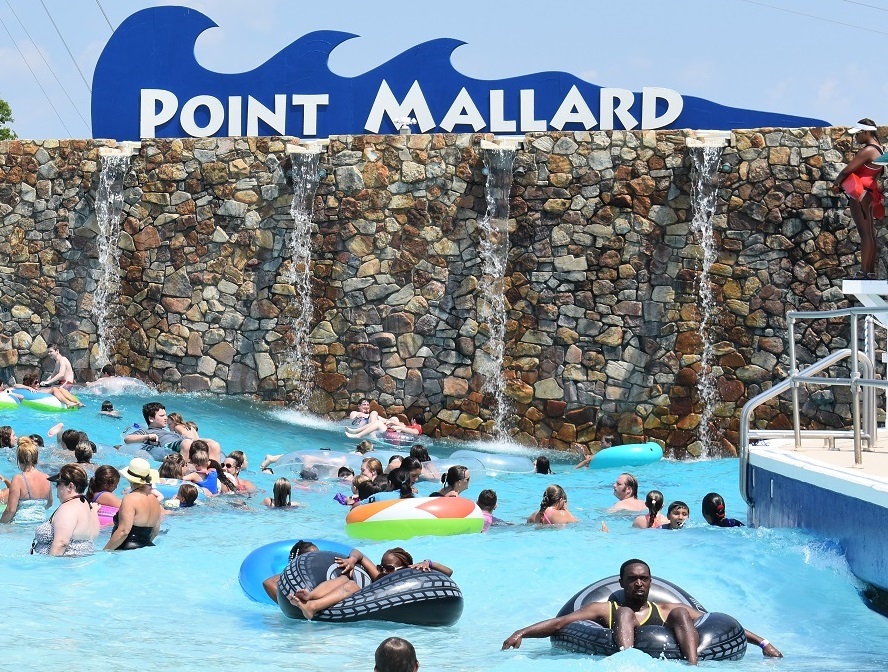 Point Mallard Water Park visitors enjoyed days of fun in the sun and making memories with family and friends. Point Mallard hosted corporate events, birthday parties and family reunions in July.  Point Mallard Water Park offers half price admission days Monday through Thursday (except holidays) through August 10. The water park will start a weekend only (Saturday and Sunday) schedule on August 12. Bring your family for some fun in the sun before summer 2017 comes to a close.  Please see our website at www.pointmallardpark.com for a complete schedule and pricing.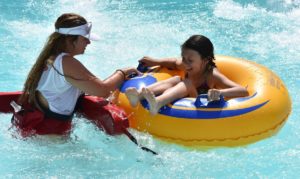 Point Mallard Golf Course
Point Mallard Golf Course hosted several tournaments in July including a Glow Golf Night Tournament with ARK on July 22.
Decatur High Golf Coach, Wes Stephenson hosted the Decatur City Junior Golf Clinic at Point Mallard Golf Course and Strike Zone on Tuesdays and Thursdays in July. This was a great clinic for beginner and junior players. Thank you Coach Stephenson. We look forward to working with you for future clinics.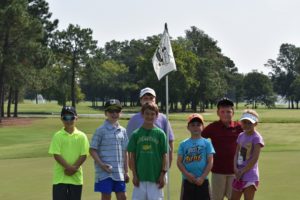 Point Mallard Golf Course is looking forward to several upcoming tournaments including the Decatur Morgan County Hospital Foundation Golf Classic on Saturday, August 12. Proceeds go toward the purchase of Bio-Dex Balance Assessment Equipment for Concussion Management.
For more information on future tournaments please call Point Mallard Golf Course at 256-341-4925.
Point Mallard Ice Complex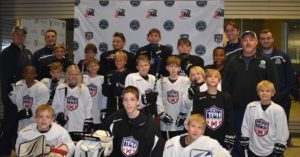 As the summer heated up many visitors remained cool by visiting Point Mallard Ice Complex. Point Mallard Ice Complex added a stick and puck night on Wednesdays that started in July.
July 24- 27, the Point Mallard Ducks hosted a Ducks Skills Camp for junior hockey players ages 5-13.  They kids learned basic skills at the camp and had a great time.
The Point Mallard Ducks also finished Learn to Play Hockey nights for children ages 4-12. This was a great program for kids with no skating experience or equipment required.
For more information please on ice skating or hockey please call the Point Mallard Ice Complex at 256-341-4915.
Fort Decatur Recreation Center
Fort Decatur Recreation Center held their 6th year of Kids Day Camp this summer. Each day approximately 90-95 children between the ages of 5 and 12 enjoyed a variety of activities. They participated in arts & crafts, sports, PE style games, board games and team building activities. There were also special guests that came to Fort Decatur to speak with the children and provide fun activities.
The Decatur Public Library provided free books for each child. The Wheeler Wildlife Refuge taught them about local wildlife and even brought a snake for them to observe and touch. Morgan County Extension Services gave lessons on nutrition and showed them how to make their own snacks. They also provided STEM activities for the older children. The kid's favorite special guest came to Kids Camp each Tuesday and led Zumba class. Rachel Oakes led 30 minutes of Zumba class and then allowed the children to request music for 30 minutes where they were allowed to dance freely and express themselves.
When summer ends, the fun at Fort Decatur Recreation Center just keeps on going. Beyond the Bell is an afterschool program that offers games, snacks and most importantly "Homework Help" for children in Kindergarten thru 8th grade. Parents drop their children off afterschool, or if they go to Banks-Caddell Elementary School across the street the staff can walk across the street to pick them up, and the activities immediately begin. Beyond the Bell is offered daily (following the Decatur City School calendar) from 2:45 pm – 5:45 pm at a low cost to parents. If you would like more information contact Suzanne Langdon or Chase Brown at 256-341-4940.
Jack Allen Recreation Complex
Jack Allen has been getting a new addition of the synthetic turf on our Championship Stadium Field. Over the last two months we have been able to see the process of breaking down the grass turf and the rebuilding of the synthetic surface. The process has been interesting process to watch with the laser grading and the different steps of layering the field with rock, sand, synthetic turf, more sand and rubber. We are excited to have the new field and the opportunities that lie ahead with it.
Thursday, July 27th we had a new event that took place at Jack Allen Complex. We held a 7v7 high school football event hosted by the Fellowship of Christian Athletes of North Alabama. We had 9 teams participating in what was a full day of exciting competition.
The high school teams that participated in the one day event were Austin, Decatur, Priceville, James Clemens, Florence, East Limestone, Decatur Heritage Christian Academy, Colbert Heights and Cherokee.
We was honored that we was able to host this event and look forward to working with the FCA with future endeavors.
Our Soccer season has begun back with practices underway utilizing Jack Allen, Spirit if America, Wilson Morgan, Wolverine and Haley Field.  Our next big event will be the "Battle at the Jack" soccer tournament which will take place over a 3 days period the weekend of September 15-17. This event will have an estimated 70 teams participating.
The weekend of September 23-24 we will switch out soccer balls for discs as we host an Ultimate Frisbee event. This event is for adults and will have up to 16 teams per Division. There will be three divisions participating in the event, Open, Women and Mixed. This event is a great friendly, laid back atmosphere that is always enjoyable to watch.
Aquadome Recreation Center
On July 25 & 26, 2017, The Aquadome Lunch Bunch presented an opportunity for senior adults to participate in a Beginners Sewing Class.  With the readily availability of clothing stores and alteration companies, sewing is a basic life skill that has lost some its importance over the years.  Rochelle Darnell, the instructor, worked with a group of women who actually have owned sewing machines for years, but never learned to used them.
At registration, Individuals were given a supply list to purchase supplies.  For some, this was a challenge.  The first day of class, general basics were taught, such as measuring and cutting fabric, threading the sewing machine, use of the controls and simply sewing straight stitching.
After a little practice with the sewing machines, it was time to work on the project, a six-pocket tote bag.  Everyone was excited to take on the challenge and at the end of the class; there were colorful totes completed and ready to be used.
The Aquadome Recreation Centers offers a variety of Crafternoon Classes throughout the year.  A monthly calendar is published and can be picked up at the Aquadome Recreation Center or be found online at www.decaturparks.com.  For more information, call Rochelle Darnell at 256-341-4950.
Ingalls Harbor Pavilion
On July 3rd Ingalls Pavilion hosted the 2017 Spirit of America Awards in conjunction with July 4th festivities at Spirit of America Field, Point Mallard.   It was the first time the awards were scheduled away from Spirit of America Field.  This was to provide a more comfortable and indoor setting for the awards. The tables were beautifully decorated by the staff of the Decatur-Morgan County Convention and Visitors Bureau.  A delicious buffet of prime rib and accompanying side dishes was provided by US Foods.
The pavilion was an excellent venue for these awards- the sound system, catered meal and quaint gathering made for a relaxed atmosphere.
The pavilion has quickly become a favored location for local and area gatherings.  And with the opening of the Home2Suites hotel within walking distance, the pavilion is expected to see increased activity.
If you would like more information concerning the Ingalls Harbor Pavilion, please contact Keith Andrews at 256-341-4835.
Wilson Morgan Complex
As the summer softball league season is starting to head toward the home stretch and the end of the season tournaments, Decatur Parks and Recreation is currently taking registration for its upcoming Fall League Season. If you would like more information concerning the 2017 Fall Softball League please contact Orlandus King at 256-341-4810.
Wilson Morgan will be hosting an estimated 25 youth team in a USSSA Softball Tournament on Saturday July 29th.
TC Almon Recreation Center
Archery Camp 2017– TCA recently held two sessions of Archery Camp.  We had a total of fifteen participants, ages 10 to 12 years.  At each camp, on both our indoor and outdoor range, we learned the basic steps of the shot process, alignment & body positioning, aiming, and scoring.  To end the camp day, we enjoyed a fun and friendly game of Archery Tic Tac Toe.
New to TCA – We will now offer Pickleball on M-W-F 10am-1pm. Pickleball is a racquet sport that combines elements of badminton, tennis, and table tennis.  It shares features of other racquet sports, the dimensions and layout of badminton court, a net, and rules similar to tennis with a few modifications.
In the past few months at TC Almon, we have watched participants in the Fitness Club become more active and healthier individuals. Our senior citizens are staying active in the training room with light weights and resistance bands; we also have a number of college and high school athletes training for the upcoming season in our fitness and weight room.
During the summer parents and teenagers have enjoyed the variety of indoor activities that TC Almon offers.  Many patrons spend time playing basketball, table tennis, and racquetball or just to escape the heat in between a few hours of swimming at Point Mallard.  Visitors to our campgrounds also take advantage of games and programs offered at TC Almon while they are visiting from out of town.
For more information concerning programs at TC Almon please call Calvin Ayers or Michelle Allmon at 256-341-4944.
Upcoming Events
July 31 (Monday) … Concerts by the River w/ Michael Dean & "Memphis" at Daikin Amphitheatre
August 4-5 (Friday-Saturday) … Fishers of Men Fishing Tournament at Ingalls Harbor
August 12 (Saturday) … Brothers 4 Life Run at Point Mallard
August 12 (Saturday) … Alabama Adult ISA Softball Tournament at Wilson Morgan
August 19 (Saturday) … Cooks Pest Control Softball Tournament at Wilson Morgan
August 25-26 (Friday-Saturday) … Bill Dukes 7@7 Run at Point Mallard
August 27 (Sunday) … USSSA Playmakers Baseball Tournament at Wilson Morgan