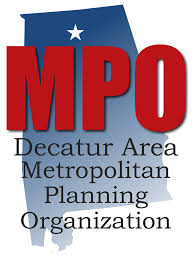 News Details – Draft 2020 to 2023 Decatur Area Transportation Improvement Program

June 10, 2019
The Decatur Area Metropolitan Planning Organization (MPO) will hold a Public Review Period and a Public Meeting on the Draft 2020 to 2023 Decatur Area Transportation Improvement Program (TIP). The Public Review Period will be from June 6, 2019 through July 6, 2019. The Public Meeting will be held in the Conference Room of the Decatur City Hall Annex located at 308 Cain Street N.E in Decatur on June 13, 2019 from 3:00 pm to 5:00 pm
The Public Review Period allows anyone to inspect the document at the Decatur City Hall Annex from Monday through Friday, 8:00 am to 4:30 pm. This document is also available on the Decatur Area MPO website (Decatur MPO). Comment Forms are also available in the Decatur City Hall Annex as well as on the Decatur Area MPO web site for anyone who would like to suggest changes to the TIP.
The Public Meeting will follow an open format where copies of the document and related maps can be viewed and questions can be posed to MPO staff. Meeting Attendees will also be given the opportunity to complete written comment forms.
The MPO is scheduled to adopt the Final Transportation Improvement Program at their next meeting. Prior to adopting the document, the MPO will review all comments from the public and makes changes to the program if warranted. If major revisions are required, the public will be given another opportunity to inspect the TIP.
Anyone needing special assistance to attend the Public Review Period or the Public Meeting should contact the Decatur Area MPO staff no later than forty-eight hours prior to the event. For special assistance please call (256) 341-4717 or email mpo@decatur-al.gov.