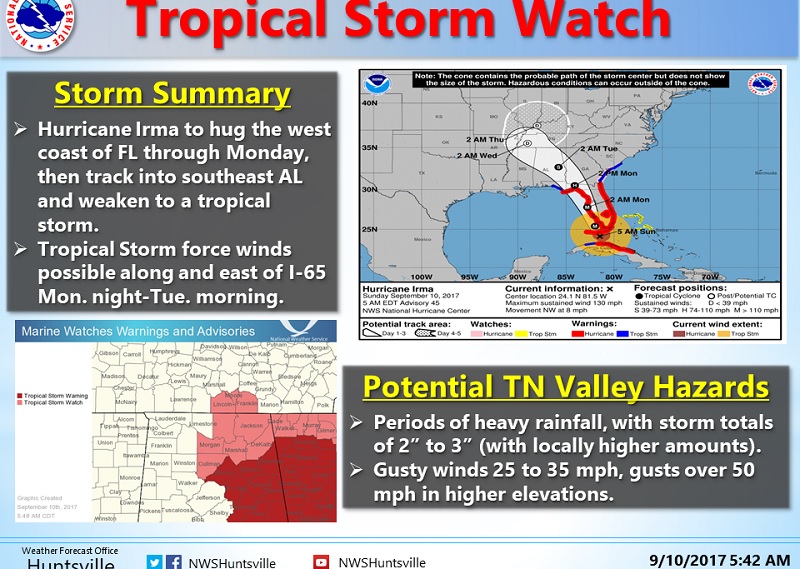 NWS Huntsville Weather Briefing for Hurricane Irma Potential Impacts
NWS Huntsville Weather Briefing for Hurricane Irma Potential Impacts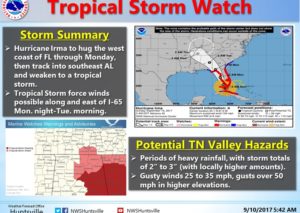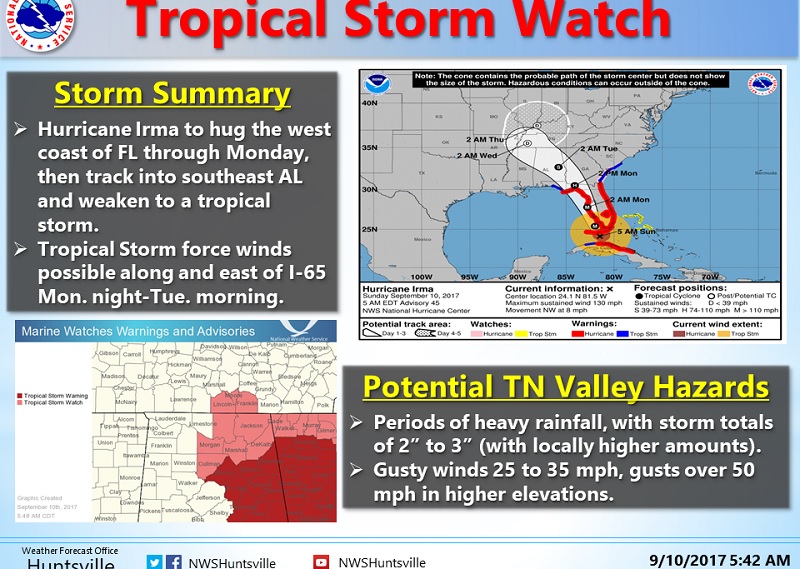 Overview
Hurricane Irma is impacting southern Florida this morning.  The current forecast track has it taking a turn to the northwest and northward off the coast of Florida on Sunday and Monday. As it does so, it is expected to weaken before arriving over GA/AL by Monday night into Tuesday. As it approaches the TN Valley, it is currently forecast to be a tropical storm.  As a result, a tropical storm watch has been issued for portions of northeast, north central Alabama and southern middle Tennessee.
Warnings/Watches/Advisories: 
Tropical Storm Watch mainly for impacts on Monday night into Tuesday over northeast Alabama, north central Alabama, and southern middle Tennessee.
Impact 1: (Winds)
Surface winds are expected to increase out of the northwest around 25 to 35 MPH with gusts of 50-55 MPH possible on Monday night through Tuesday.
Impact 2: (Heavy Rainfall)
Total rainfall amounts are expected to range between 2 to 3 inches from Monday night into Wednesday.
Graphics: see attached graphic
Additional Information: Refer to the National Hurricane Center for the latest advisories. The next update is scheduled by 9AM on Monday morning, unless conditions warrant.
-Stephen Latimer and Andy Kula
—
National Weather Service